CPC Jiangsu Provincial Committee Secretary Li Qiang inspects SGIMRI
Views:7 Author:Site Editor Publish Time: 2017-02-23 Origin:Site
A delegation headed by Li Qiang, Secretary of the CPC Jiangsu Provincial Committee, and accompanied by Wu Zhenglong, Deputy Secretary of the CPC Jiangsu Provincial Committee and Secretary of CPC Nanjing Municipal Committee, paid a visit to the Jiangbei New Area (JNA) on February 23. During the tour, the delegation visited JNA's Research and Innovation Park and inspected the construction of Sino-German Intelligent Manufacturing Research Institute (SGIMRI).
Secretary Li Qiang asked for detailed information on SGIMRI's German partner, Fraunhofer IPK, and listened to the reports on SGIMRI's R&D on production, technological innovation and future development respectively. The reports were presented by Cai Long, SGIMRI's state-owned shareholders' representative and Chairman of Nanjing Yang Zi State-Owned Investment Group, and SGIMRI Chairman Li Jiang. Speaking on the occasion, Li Jiang said that the Fraunhofer-Gesellschaft was the world's leading Industry 4.0 research institution, Europe's largest application research organization and the world's second most innovative government research institution. "Thanks to the great care and support from governments at provincial and municipal levels and the JNA government, SGIMRI, as the Fraunhofer IPK's only partner in Jiangsu province, has made tremendous progress. SGIMRI has now undertaken a series of in-depth cooperation projects with NARI Group. We hope that through a series of cooperation projects with bellwether companies in various industries, it will drive the intelligent transformation and upgrading of Jiangsu's manufacturing industry," said Li Jiang.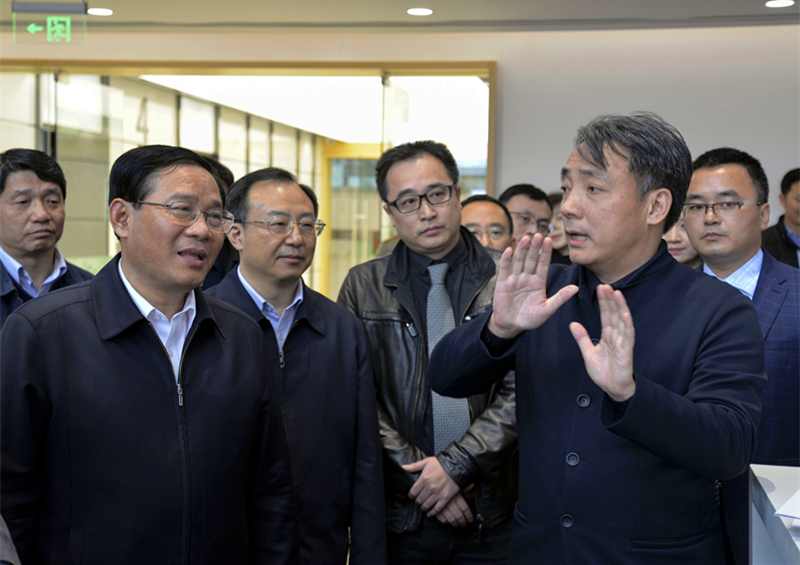 SGIMRI Chairman Li Jiang briefs Secretary Li Qiang
Secretary Li Qiang acknowledged SGIMRI's development mode and achievements. He especially stressed, "SGIMRI must build more attractive platforms through institutional and mechanism innovation, expedite efforts to attract resources and gather talents, take the initiative to develop interface with industries and give full play to the driving role of major projects in industrial clusters."
SGIMRI is presently developing four intelligent manufacturing centers: research and application center, training center, exhibition/demo center as well as startup and incubation center. SGIMRI aims to capitalize on the transformation and upgrade of the manufacturing industry to facilitate customized research and implementation plans for China's manufacturing industry, thereby upgrading it towards intelligent manufacturing and playing a bigger role in the development of "One Center, One Base" in Jiangsu and Made in China 2025.