Nanjing party secretary Zhang Jinghua inspects SGIMRI
Views:30 Author:Site Editor Publish Time: 2017-07-21 Origin:Site
Accompanied by Luo Qun, Standing Member of the CPC Nanjing Municipal Committee and Full-Time Deputy Secretary of the Party Work Committee of Jiangbei New Area, Zhang Jinghua, Standing Member of the CPC Jiangsu Provincial Committee and Secretary of the CPC Nanjing Municipal Committee, inspected Sino-German Intelligent Manufacturing Research Institute (SGIMRI) on July 20th,2017. SGIMRI vice presidents Wu Wei and Cheng Xueyin along with Jan-Patrick Cap, Burkhard Schallock and Christoffer Rybski, German experts at SGIMRI and senior project managers of the Fraunhofer IPK Institute, received the visiting officials.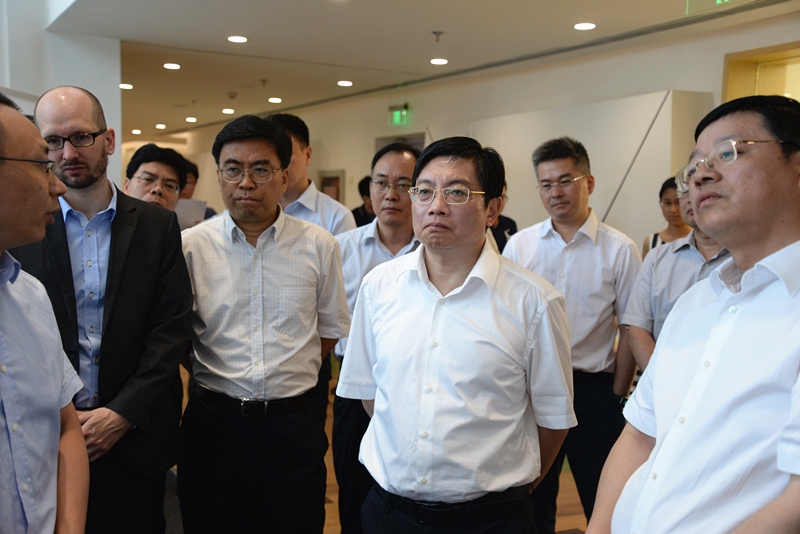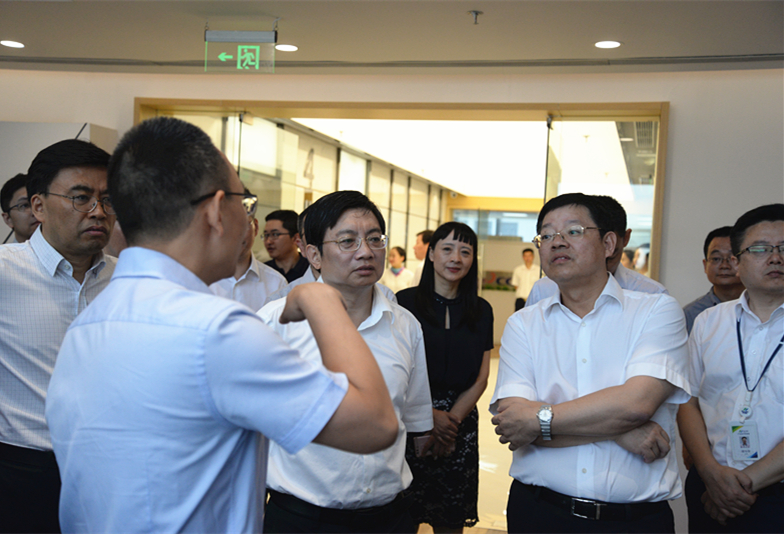 Cheng Xueyin and Wu Wei warmly welcomed Zhang Jinghua and other officials. They made a detailed report on the recent progress at SGIMRI. Cheng Xueyin said that since SGIMRI had signed a strategic cooperation agreement with NARI Group Corporation last December 2016, the two sides have carried out a series of cooperation projects. Cheng added that SGIMRI had recently reached an agreement on R&D system strategy consultancy and secondary electric equipment intelligent manufacturing, whereby the two sides will carry out further cooperation in reconstructing the R&D system and production lines. The vice president further said that collaborative projects between SGMIRI and Xiangfan Guowang Synthetic Insulator Co., Ltd., Aerosun Corporation, Nanjing Tengyuan Soft Magnet Co. Ltd. and BSH were progressing smoothly. She added that SGIMRI would sign an agreement on production-line intelligent manufacturing project with Daqo Group at the Sino-German Intelligent Manufacturing Entrepreneurs Conference II on July 28th, 2017.
Acknowledging SGIMRI's work, Zhang Jinghua called for "strengthening industrial support, persisting in taking advanced manufacturing and modern services industries as two driving wheels, expediting the establishment of a modern industrial system, improving the financial capacity to serve the real economy, promoting industry's progress towards medium and high ends, and nurturing new driving forces for JNA's development". In the report, Cheng Xueyin said that as a pioneer of intelligent manufacturing in Jiangbei New Area and Jiangsu province, SGIMRI will actively respond to China's innovation-driven overall national development strategy and strengthen innovation in R&D and technological application. "Meanwhile, SGIMRI will take Jiangbei New Area as the starting point and drive the development of the manufacturing industry in Jiangsu Province and the entire Yangtze River Delta Region. It will also form joint forces with research institutions and enterprises in the Beijing-Tianjin-Hebei, Pearl River Delta and others to build a complete intelligent manufacturing industry chain and boost the overall development of China's intelligent manufacturing industry," Cheng said.