Provincial Development and Reform Commission officials inspect SGIMRI over building 'national industry innovation center'
Views:21 Author:Site Editor Publish Time: 2017-10-25 Origin:Site
On October 24, Zhu Xiaoming, Director and Party Secretary of the Provincial Development and Reform Commission of Jiangsu Province, made an investigational tour of SGIMRI, accompanied by Ding Xiping, Head of the High-Tech Industry Department. They were warmly received by Luo Qun, member of the Standing Committee of Nanjing City and Vice Secretary of Jiangbei New Area Party and Industry Committee, Cai Long, Chairman of Nanjing Yangtze State-Owned Investment Group, Li Jiang, Chinese Chairman of SGIMRI, and Cheng Xueyin, Vice President of SGIMRI.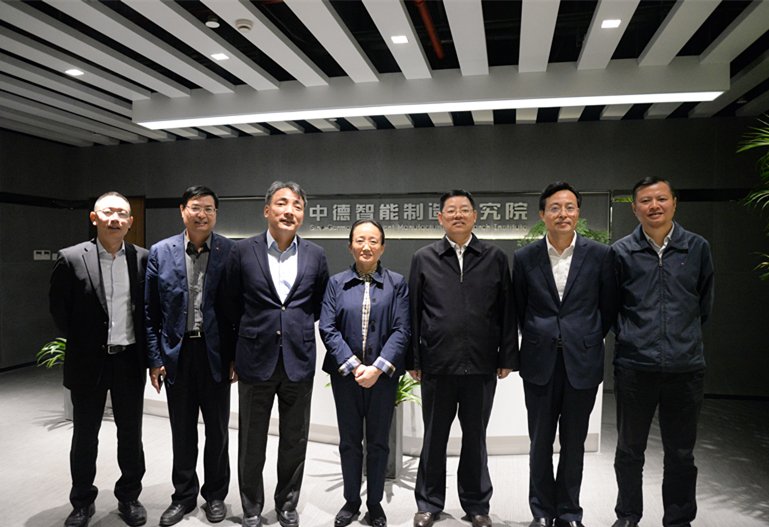 German expert Michael Obenaus from Fraunhofer IPK of SGIMRI and Cheng Xueyin gave Director Zhu and other visiting guests a detailed description of how Fraunhofer IPK operates and collaborates with SGIMRI.
Director Zhu showed approval to SGIMRI's mode of operation as a joint venture and its development strategy that combines a wide variety of elements, including production, research, education, politics and business. She said that SGIMRI as a research institute should follow a reform-driven path in its development. "Jiangsu, as a manufacturing power in China, has a fairly solid base. The Provincial Development and Reform Commission will do everything in its power to drive the construction of an industrial innovation center at SGIMRI. It will try to build it into a national innovation center in Nanjing's Jiangbei New District. To achieve this goal, the commission has put forward a special strategy, which can be summarized as "1+10+20", i.e. to build a comprehensive industry innovation center, 10 special industry innovation centers, and 20 provincial or city-level industry innovation centers," she said.
At the end, Director Zhu laid down tougher requirements for SGIMRI, calling for a closer relationship between SGIMRI and the government, state-owned enterprises, private capital and the German side, with the aim of exploring a new path to building application-driven research institutes and boosting Jiangsu Province's effort towards upgrading its industrial base.