World Intelligent Manufacturing Summit 2017 concludes
Views:74 Author:Site Editor Publish Time: 2017-12-12 Origin:Site
The World Intelligent Manufacturing Summit 2017 was held at Nanjing International Exhibition Center from December 6 to 8, 2017. Themed as "Convergence, Integration, Innovation, Transformation", the summit analyzed the latest trends in intelligent manufacturing and traced the future trajectory of the industry. The event served as a large-scale, world-class summit where major international giants from the field of intelligent manufacturing exchanged their views, exhibited their latest products, and carried out traded.
At the summit, Sino-German Intelligent Manufacturing Research Institute (SGIMRI), an enterprise from Nanjing Jiangbei New Area and torchbearer of Sino-German cooperation, joined forces with Fraunhofer IPK to demonstrate their latest manufacturing technologies and a large collection of individualized intelligent solutions. The two partners brought together many experts from a wide range of industries to make the summit a success.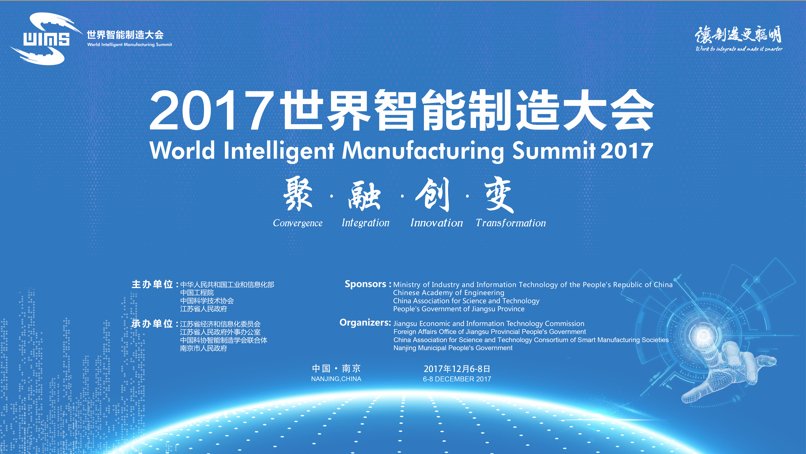 Highlight 1: Demonstrate How to Actualize a More Flexible Production Line
Integrated robotic cell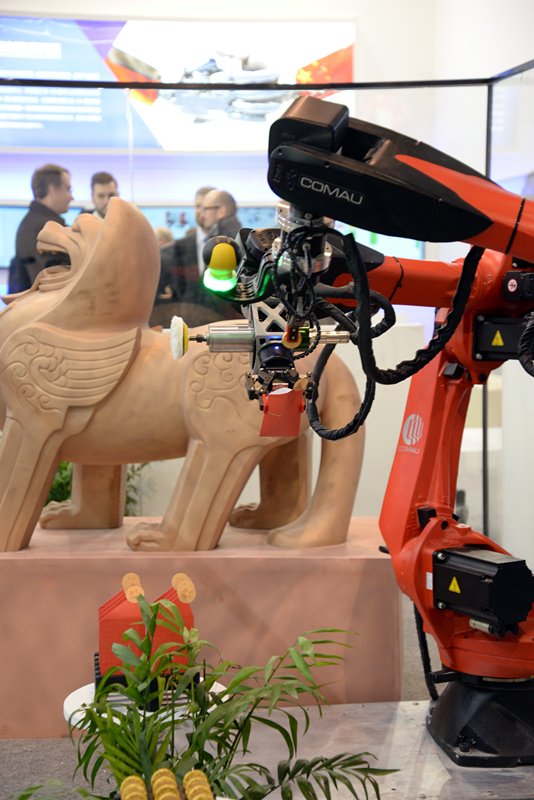 This showcase was the central exhibit item of the SGIMRI booth at the "World Intelligent Manufacturing Summit 2017". It contains two collaborative robots for polishing and handling. One of them was used for polishing of a statue by using a force detection control instead of a predefined teaching. With a multifunctional tool including a gripper, this robot also perform some handling movements. The other robot was used for an interactive game where the visitor will lead the robot manipulator inside a virtual box. Furthermore a collaborative showcase of both robots were presented, where a red envelope (hong bao) is filled with a chocolate coin. The whole system was controlled by the modular shop floor IT to setup the IT processes using an integrated OPC UA execution environment.
A Wide Assortment of Innovative Technologies
Presentation of cutting-edge developments for robotic control by using force detection systems for polishing processes•

Support an integrated engineering of a new product order – here switching from a machine processing to a handling process – based on the modular Shopfloor IT

Interactive environment for Visitors by using collaborative human-machine interactions



2. Virtual model and simulation of an engineering chain
The second showcase illustrated how to handle a new customized product order on a process level. Therefore virtual models and simulation of an engineering chain for the production of gears from the European automotive manufacturer Opel was used. The challenge of customized orders was explained with the example of gears for a racing gearbox. Therefore five software solutions from Fraunhofer IPK were presented – MO²GO Process Modelling Software, Process Assistant (PA) as graphicaluser interface for process handling, Modular Shopfloor IT, Computer Agent System for self-organizing production control and simulation, Cockpit for performance management. Each of these technologies are once more descripted in the table beneath.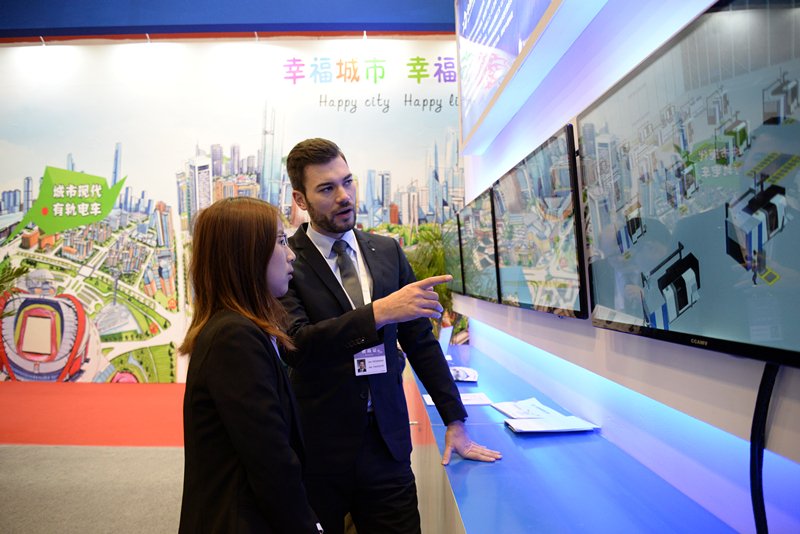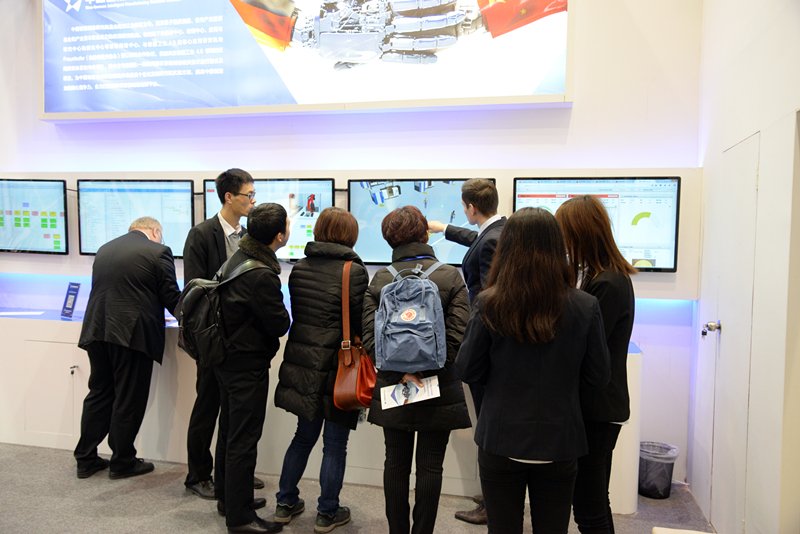 Project Flow Advantages
Former sequential engineering chains will be integrated to reduce setup time

Flexible production chains are realized to improve utilization and reduce throughput time

Intelligent Control reduces complexity for the people and Contextual data access, visualization and manipulation regarding process and roles enables real-time production for individual orders
Highlight 2: Intelligent Global Carnival – "Sino-German Intelligent Manufacturing Integration Innovation Forum"
In addition to displaying its technological exhibits, SGIMRI joined forces with Fraunhofer IPK, the Management Committee of Nanjing Jiangbei New Area and the Nanjing Yangtze State-Owned Investment Group in staging "World Intelligent Manufacturing Summit 2017 – Jiangbei New District Subforum – Sino-German Intelligent Manufacturing Integration Innovation and Development Forum". The forum was aimed at creating a face-to-face dialogue between German experts and Chinese industry entrepreneurs, who discussed the current status of world intelligent manufacturing, the future trends therein, interpretation of the latest cases of common interest in intelligent manufacturing, and how in the field of intelligent manufacturing Jiangsu Province should seize opportunities to cooperate with major global organizations and businesses.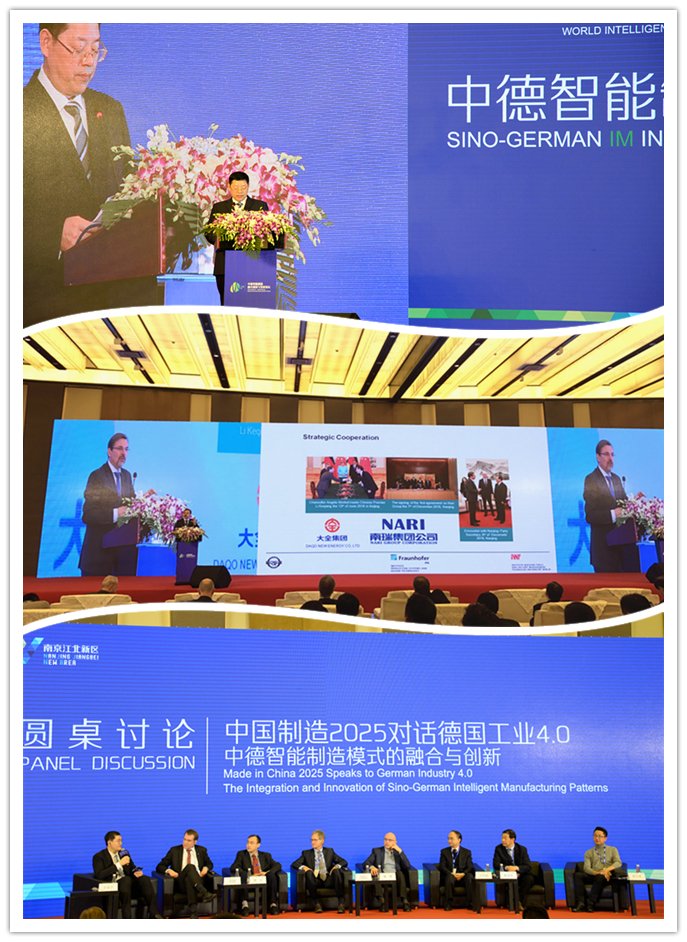 Professor Holger Kohl, Doctor Reinhart Poprawe and Chief Representative Mu Hong from Fraunhofer IPK attended the forum. Moreover, Wang Yiqing, Vice President of SAP AG's Great China region, Wu Xiong'ang, Global Vice Executive President of ARM and President of its Great China region, Ge Ruining, General Manager of Staufen's Shanghai Intelligent Manufacturing Center, Cui Licheng, Director of Xiaomi's New Economy Research Center, and other famed experts from the Internet of Things, artificial intelligence and other sectors attended the forum. These guests were brought together to discuss how to promote integration and innovation.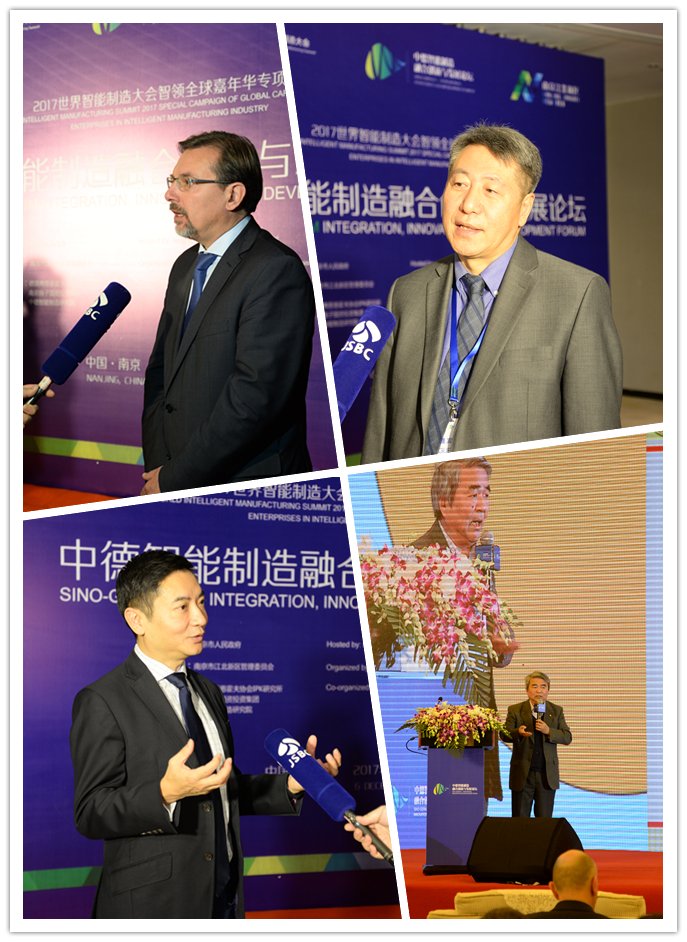 Highlight 3: Party Secretary from Jiangsu Lou Qinjian Pays a Visit
On December 8, Lou Qinjian, Secretary of the Provincial Party Committee of Jiangsu Province, accompanied by Governor Wu Zhenglong and other officials, listened to a work report by Thomas Knothe, German Director of SGIMRI and Manager of the Business Process and Factory Management Department of Fraunhofer IPK.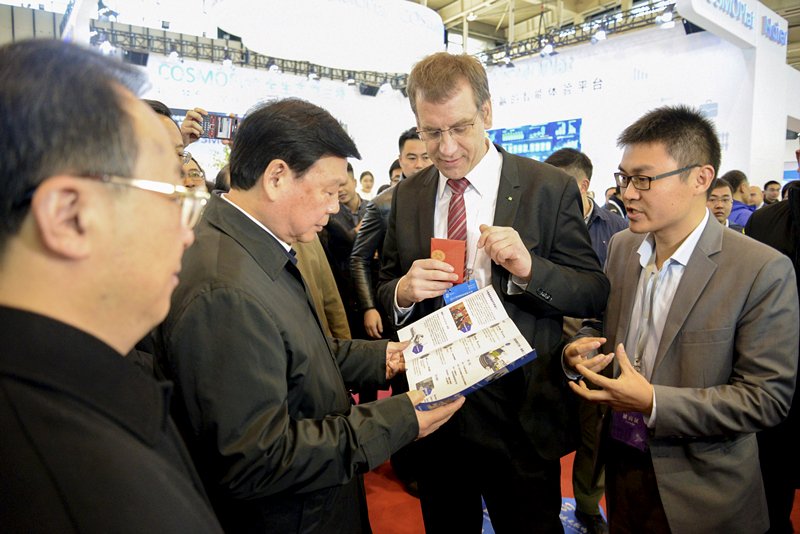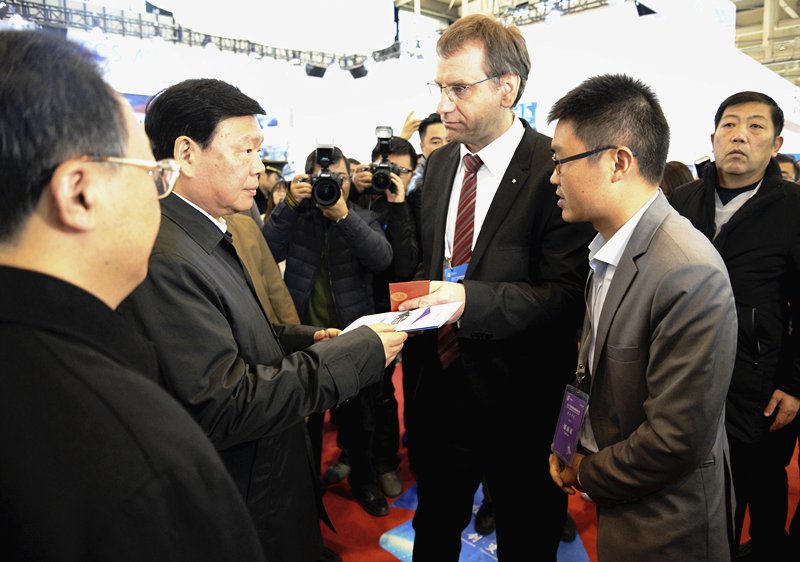 In addition to technical highlights and summit photos, over 80 businesses from around China held business discussions with SGIMRI during the exhibition. Under the auspices of the governments of Jiangsu Province, Nanjing City and Jiangbei New Area, SGIMRI, as a Sino-German joint venture, will build itself into a first-class national innovation platform in the field of intelligent manufacturing.